Bollywood
Fans troll Akshay Kumar as he accidently 'likes' video mocking Jamia Milia attacks
Akshay Kumar attracts flak as he 'likes' a video that mocks the attacks on Jamia Milia Islamia students who have been protesting against the Citizenship Amendment Act 2019.
The Bollywood celebrities like Anubhav Sinha, Swara Bhaskar, Sayani Gupta Vikrant Massey and Richa Chadha have condemned the government's negligence on Jamia Milia Islamia protests.
The entire industry has come together as one to discourage the deadly protests but it seems 'Gold' star Akshay Kumar is aloof. The actor had apparently 'liked' a video that mocked the Jamia Milia Islamia students attacks. This has attracted major flak for the 'Kesari' star who is claimed as the 'most-patriotic' star of all times.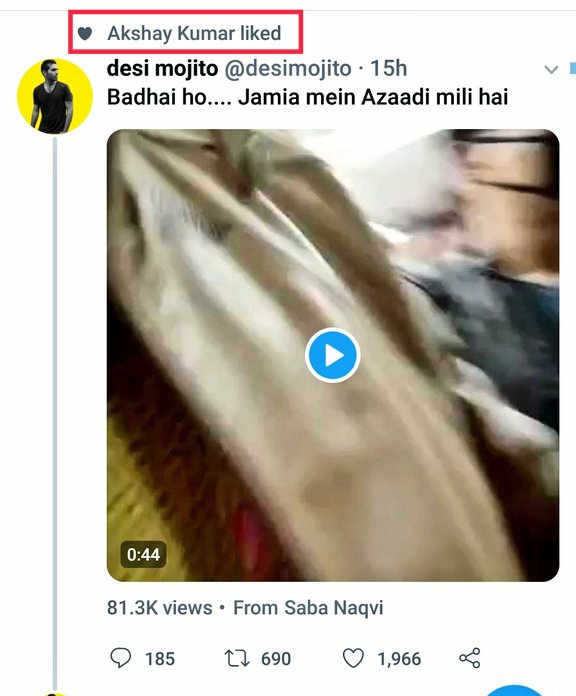 The fans are in utter shock to see their Khiladi Kumar's adverse behavior. The Twitterati have left no stone upturned to bring down Akshay Kumar for his activity. Even though Akshay took to Twitter to issue an apology for 'accidently' liking the video, the fans are in no mood to spare the man. Tweets filled with hate, mockery about his Canadian citizenship and fake patriotism are trending on Twitter under the hashtag #JamiaProtest and #BoycottCanadianKumar.
Videshiyon ka toh kaam hai desh mein aag lagana. Shame on this Canadian.

— Kapil (@kapsology) December 16, 2019
You were scrolling your TL all the way from Canada, where you follow hate filled bigots spewing venom here? You're the accident

— Yeh Log ! (@yehlog) December 16, 2019
Do you follow people who endorse such things against students ? #BoycottAkshayKumar #BoycottCanadianKumar

— Student Rebellion (@Polytikle) December 16, 2019
सुबह का देशभक्त अगर शाम तक सावरकर बन जाये तो उसे देशभक्त नहीं कनाडई कुमार कहते हैं।

— Divesh Singh (@YippeekiYay_DH) December 16, 2019
The fans have been quick enough in condeminng Akshay's act as heartless, fake and instigating while the star continues to prove his innocence. On the other hand, a certain section of the Tweeples are standing in support of the 'Housefull' hero by tweeting with #ISupportAkshay. With 41K+ tweets the hashtag is trending at top spot in India.
#ISupportAkshay because this guy has a heart of gold, aisa kuch kar hi nahi sakta🙏🕉️🙏

— अनुज बाजपेई (@Real_Anuj) December 16, 2019
This is Akshay Kumar.
But you can not understand.#ISupportAkshay pic.twitter.com/kUbxDRdG32

— Ankit Singh (@akki_fan_ankit) December 16, 2019
Hey haters , just take out ur 30 swconds and watch wht he is saying about his DONATIONS.

He is literally so down to earth, he could have easily made a show off for his donations. But look at his simplicity.

How can u hate someone like him.

We love u sir #ISupportAkshay pic.twitter.com/3RPhdYnHIz

— 🌸 𝐒𝐚𝐚𝐑𝐮𝐮 🌸 (@Khiladi_ki_saru) December 16, 2019
#ISupportAkshay
Donated 40K in 90's to crew Nd stuntman
Donated profit from distribution of waqt
Opened insurance for stuntmen
Given foundation to BHARAT KE VEER
Helped farmer from Maharashtra
Helped children whose parents suicide in telengana

— Delhi Akkians (@DelhiAkkians) December 16, 2019
I'm a realist. Where I come from, 'phenomenons' don't exist. I'm from a land where people make mistakes and try again, harder, faster; where negativity is not an option- @akshaykumar sir#ISupportAkshay

— Akshay Kumar FG (@AKFansGroup) December 16, 2019
There Is No One Reason , There Are Uncountable Reasons Why I Am Proud To Be An AKKIAN

Always @akshaykumar Fan For Life

WE LOVE YOU AKSHAY KUMAR#ISupportAkshay

— Bhushan Khiladi (@Bhushanadhau1) December 16, 2019
For the uninitiated, Jamia Milia Islamia students are currently protesting against the Citizenship Amendment ct 2019 that seeks to provide citizenship to non-Muslims religious minorities from three neighboring countries who arrived in India to escape religious persecution. The protests turned serious when the students came to blows with the police officers who enforced lathi charge and tear gas on them.
According to reports, the protesters had torched up 4 public buses and two police vehicles near Friends Colony area in Delhi. On Sunday, two firemen were injured during stone pelting between the police and protesters. Given all the facade the Jamia student body claims to have no participation or role in the protests. They believe a certain group of 'unknowns' joined the protests to make it violent.
The tension in the Jamia Nagar region of Delhi continues to dwell.