India News
CAA Protests: Sourav Ganguly trolled for not supporting daughter Sana Ganguly's view point
BCCI Captain Sourav Ganguly received backlash for not supporting his daughter, Sana Ganguly's viewpoints on CAA protests. He called her 'too young to know about politics'.
Sana Ganguly, daughter of BCCI Captain Sourav Ganguly took to Instagram Stories to share an excerpt from the book 'The End of India' by renowned writer Khushwant Singh. In the shared excerpt she expresses her dissent and agitation on the recent Delhi Police crackdown on students of Jami Milia Islamia University New Delhi. The students were pelted with stones and tear gas as they took to the streets of Jami Nagar to protest against the Citizenship Amendment Act 2019.
Sana Ganguly hit headlines with her act of 'maturity' and 'sensible school of thought'. Even former finance minister P Chidambaram's son, Karti, posted her screenshot with the words, "Bravo Sana Ganguly".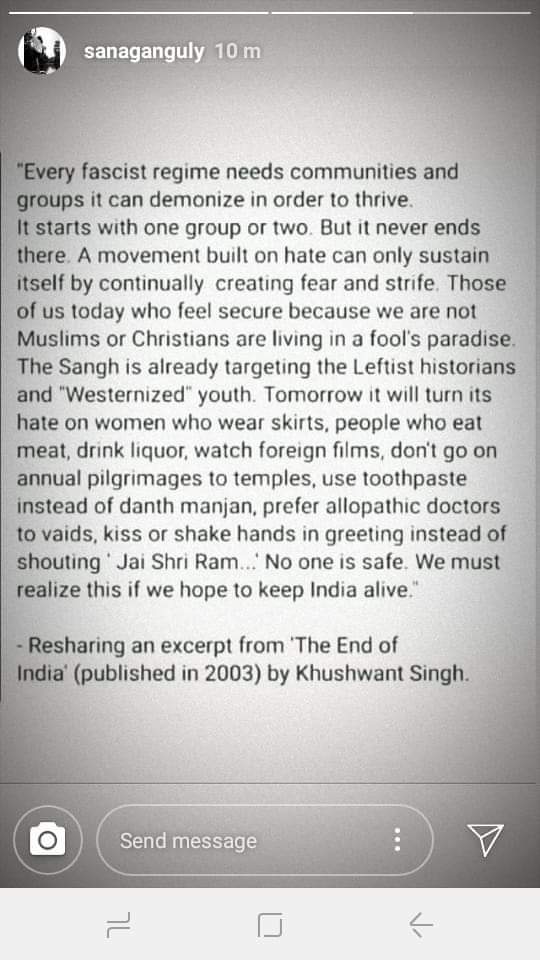 BCCI President @SGanguly99's daughter Sana Ganguly just won my heart by this post. Incredible maturity from an 18 year old. pic.twitter.com/wQN5eyfY6G

— Aparna (@chhuti_is) December 17, 2019
#SanaGanguly went through her post the conclusion i got she has problem with sanatan sanskriti its culture & indias tradition…She even has problem with chanting "Jay shree Ram too" She is totally brainwashed by leftist…She is promoting leftist ideology in India

— प्रशांत मिश्रा (राष्ट्रवादी हिन्दु )🇮🇳 (@Sanatani_97) December 19, 2019
However, dad Sourav Ganguly wished to keep Sana out of politics. His tweet said that Sana was 'too young to know anything about politics'. This didn't go down well with Twitterati who lashed out on Sourav Ganguly for his condemning daughter's thoughts.
Please keep Sana out of all this issues .. this post is not true .. she is too young a girl to know about anything in politics

— Sourav Ganguly (@SGanguly99) December 18, 2019
The Twitterati came out in support of Sana Ganguly claiming that if she was old enough to cast her vote in elections, she has the right to have a distinct opinion. Sourav was also thoroughly bashed for not backing his daughter's opinion. Instead, pulling her down for being vocal about her opinion.
Dear Dada, she spoke the truth which many legends are yet to speak up. If saying the right thing does not require to "know anything in politics", then it's better than "knowing everything in politics" & keep quite. You as a father should be proud of this act of her! #SanaGanguly https://t.co/XklxdAY9tz

— Rama Naga (@RamaJNUSU) December 19, 2019
Sourav lost everything what he earned in 20 years, just by taking a decision to work under Jay Shah

Sana Earned all that what her father lost by just speaking what is Right

History Recalls The Brave One…

— Aarush Jadge (@AarushJadge) December 19, 2019
It was dada(Giri) in Lord's where you were whirling your shirt and pumping your fist.. When it comes to taking a stance, your daughter took, you just lost your 'SPINE'. SPINELESS SOURAV#SanaGanguly pic.twitter.com/HivxC6rvrB

— 4Zero2Nine (@4zero2nine) December 19, 2019
Anyone who follows dirty communist agenda is speaking "truth" else he's sanghi 😭

She's too young to know all this,
Youth found all this protest cool coz rebellion is characteristic to youth. As her father it's duty of @SGanguly99 to guide her &correct her mistakes #SanaGanguly

— Prajakta Pandey (@PandeyPrajkta) December 19, 2019
See Logic : 😂😭@SGanguly99:who played as indian cricket team captain for years,won Padma Shri award,fourth highest civilian award in India,lost everything for not supporting their agenda #SanaGanguly:who's only 17 year old,spoke in favour of jihadi agenda
Earned everything https://t.co/EJfVfWGEPt

— Prajakta Pandey (@PandeyPrajkta) December 19, 2019
Dada, i think your daughter is not awere about killing of Kashmiri Pandit, And 1984 sikh riot..#SanaGanguly

— Seedhi Baat No Bakwas…😜 (@BhaskarDey14) December 19, 2019
Dada #SouravGanguly is as spineless as many bollywood stars and sports person are, but her daughter #SanaGanguly is not. Proud of you Sana, #CAAProtest pic.twitter.com/8RGTeEiW16

— What So Social (@what_social) December 19, 2019
#SanaGanguly This is not a girl
This is the true face of legend pic.twitter.com/psu6XSzIDr

— quantum physics (@hussain52089747) December 19, 2019
#SanaGanguly
BCCI chair is in danger!
she is only 18, its a great courage to speak out. pic.twitter.com/Bw0qMOZhH8

— Disha Tripathi (@Thefoodhistori1) December 19, 2019
#SanaGanguly Sana is 18, old enough to vote, old enough to marry without her father's permission.

Sourav, in trying to dismiss her thoughts, u are dismissing your own credibility. U might have been Prince of Kolkata, but u are intellectually a pauper, a stooge of Shah.

— RKHuria (@rkhuria) December 18, 2019
Now waiting for #sanaganguly s story on Instagram saying

Don't drag my dad in ur dirty politics & threaten his BCCI Chair over my Insta Story condemning the attack on #JamiaMilia.

He s politically too naive to understand the filth of communal propaganda and divisive politics

— Vinay Kumar Dokania | विनय कुमार डोकानिया (@VinayDokania) December 18, 2019
Dada @SGanguly99 Am big fan of u just bcoz of your leadership qualities&All the cricketers you picked up have become star cricketers.Its enough that you are a born leader.
In this case,how can you expect our #SanaGanguly will not inherently possess your dynamism?
Let her speak.. https://t.co/Lv740LolSO

— M.Satish Kumar (@satishkumarm2) December 18, 2019
Internet is all praises and appreciation for the 18-year-old daughter of Sourav Ganguly but the same Netizens are appalled by his display of over-protection. The Netizens have been incessantly trolling Sourav for his 'lack of courage' and calling him 'spineless' too.
Sana Ganguly is a social media sensation already who owes most of her fame to Instagram platform where she posts quite frequently. Sana is currently pursuing her studies in Loreto School, Kolkata. She is due to complete her education this year. Besides being academically sound and an excellent learner, Sana is following her mother's footsteps into the world of classical dancing. The young girl is a trained classical dancer who performed at an event with Amitabh Bachchan in attendance.