India News
Women should carry condoms and cooperate with rapists – says this director
In an outrageous post on Facebook, Director Daniel Shradvan advice women to carry condoms and cooperate with rapists to avoid getting killed after being raped. The director has received major flak for his statement.
The whole of Indian nation is deeply shaken with the Hyderabad-rape-case. Priyanka Reddy, a 26-year-old veterinary doctor was gang raped, burnt alive and left to rot under a flyover on the outskirts of the city. Policemen have caught hold of 4 accused men who've truthfully confessed to their crimes.
As the entire nation, along with celebrities and political ministers have come out in large numbers condemning the gruesome act. But filmmaker Daniel Shradvan had a contrasting response to the scenario. In a Facebook post, the filmmaker shared some 'shocking advice' for women who wanted to avoid being killed after rape.
He said that women should carry condoms and cooperate with rapists in order to avoid being killed. He also said that 'legalizing rape without violence' is the only way to control violent rapes in India.
In a now-deleted Facebook post he said,"Murder is a sin and a crime. Rape is a corrective punishment. No justice is going to happen with Nirbhaya Act or Priyanka Act. The agenda of rape is fulfilling the sexual needs of rapists based on that time or mood. If these adamant bitches didn't consent to the proposal made by the rapists, they will have no other way but to rape them."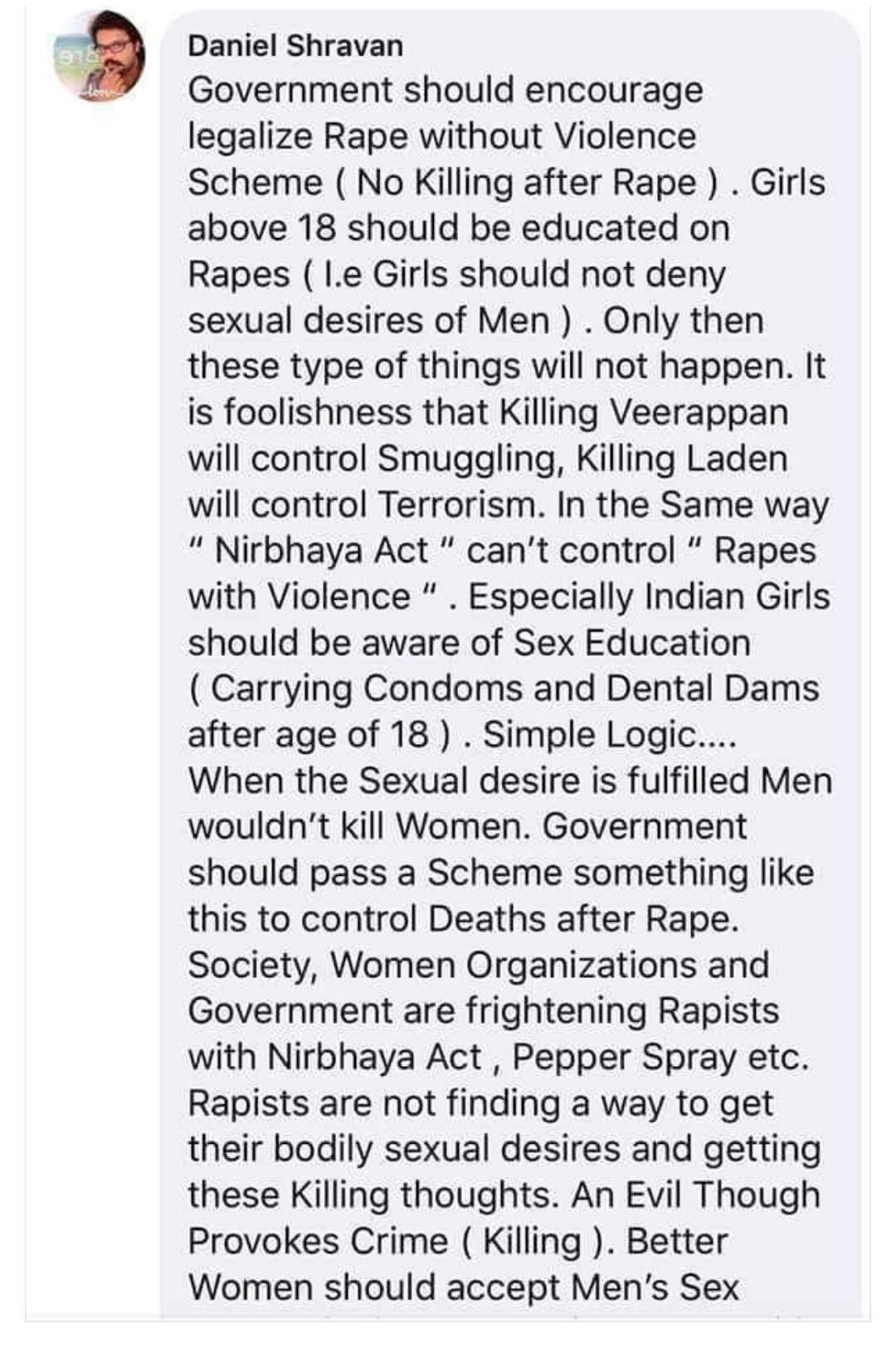 The Twitter caught wild-fire before he could delete the ridiculous post. Actors like Kubra Sait from 'Sacred Games', songstress Chinmayi Sripaada and media professional Sonal Kalra discouraged his thinking. Netizens quickly joined the motion to take down the film director.
If this is for real, I want to die. pic.twitter.com/yT5zsepJ6f

— Sonal Kalra (@sonalkalra) December 4, 2019
More pearls of wisdom from the same man. If women accept his proposal there wont be rape. Because women are adamant bitches rape happens.

What happens when parents dont raise their sons properly. #SoupBoyCulture pic.twitter.com/5KArM68tFy

— Chinmayi Sripaada (@Chinmayi) December 3, 2019
Whoever this Daniel Shravan is: needs medical help, maybe some heavy duty whacks up his butt, will help him clear his constipated mind.
Infuriating little prick. https://t.co/z8WVpClKTC

— Kubbra Sait (@KubbraSait) December 4, 2019
Dear Women,
As men we don't have answers to this rape culture problem. If left to our devices we will come up with beauties like lynchings and castration and even worse ideas like this. Men like this Daniel Shravan don't speak for the rest of us.
Sincerely
Men.

— Onaandi Pulavan (@ka_kaushik) December 4, 2019
Someone needs to sue this man 'Daniel shravan' ! What a bloody moron !

— Khurafati Nitin (@khurafatinitin) December 4, 2019
Some1 wants to legalize prostitution,this went further nd want to legalize rape.these men think,men's sexual desires r of supreme importance nd need to b fulfilled at any cost.For them women are only tools used for a single purpose.This is d actual reason y rapes won't stop ever

— प्रीति/Preeti (@preetisingh24) December 4, 2019
The director has finally issued an apology with a series of tweets. He said that the lines were in fact of a villain's from his upcoming film. He didn't mean them at best.