Bollywood
Utsav Chakraborty reveals shocking truth about his #MeToo allegations
A year after the actor, writer and comedian Utsav Chakraborty, famous for his stint with AIB was accused of sexually harassing a girl last year. In a shocking audio clip released yesterday, the comedian is seen indulging in a conversation with the girl's lawyer who threatens him of dire consequences if the comedian doesn't go out in public asking for an apology.
The #MeToo hashtag has been trending on Twitter since then. An audio clip titled 'EXPOSE___' was leaked online last night. The audio clip locked a conversation between the lawyer and Utsav where they talk about the screenshots that Utsav had been circulating to prove his innocence.
The two got into a heated argument that somehow shed light on Utsav being falsely accused by the alleged #MeToo victim. Comedian Utsav Chakraborty took to Twitter to explain the series of events with screenshots from Kanika Kaul, the accuser.
As per the screenshots shared by Utsav in a Twitter thread, Kanika is seen apologizing, regretting and almost embarrassed to a point where she wanted to undo all her acts from last year. Kanika, 27 and married, agreed to have removed her parts of the 'sexual' conversation that Utsav and she had in order to save herself from her ex-boyfriend's rage.
She also claimed to have falsely fabricated the story to her friend Mahima, who was responsible for publically revealing the matter on social media. In a series of tweets, Kanika apologizes to the comedian for her 'inaccurate allegations' and 'failed attempts at clearly recollecting the past'.
Kanika also talked about how her 'false stance' in the #MeToo movement has affected the essence of truth entailed with the topic of national interest. She has been quick in putting out apologies but alter the damage?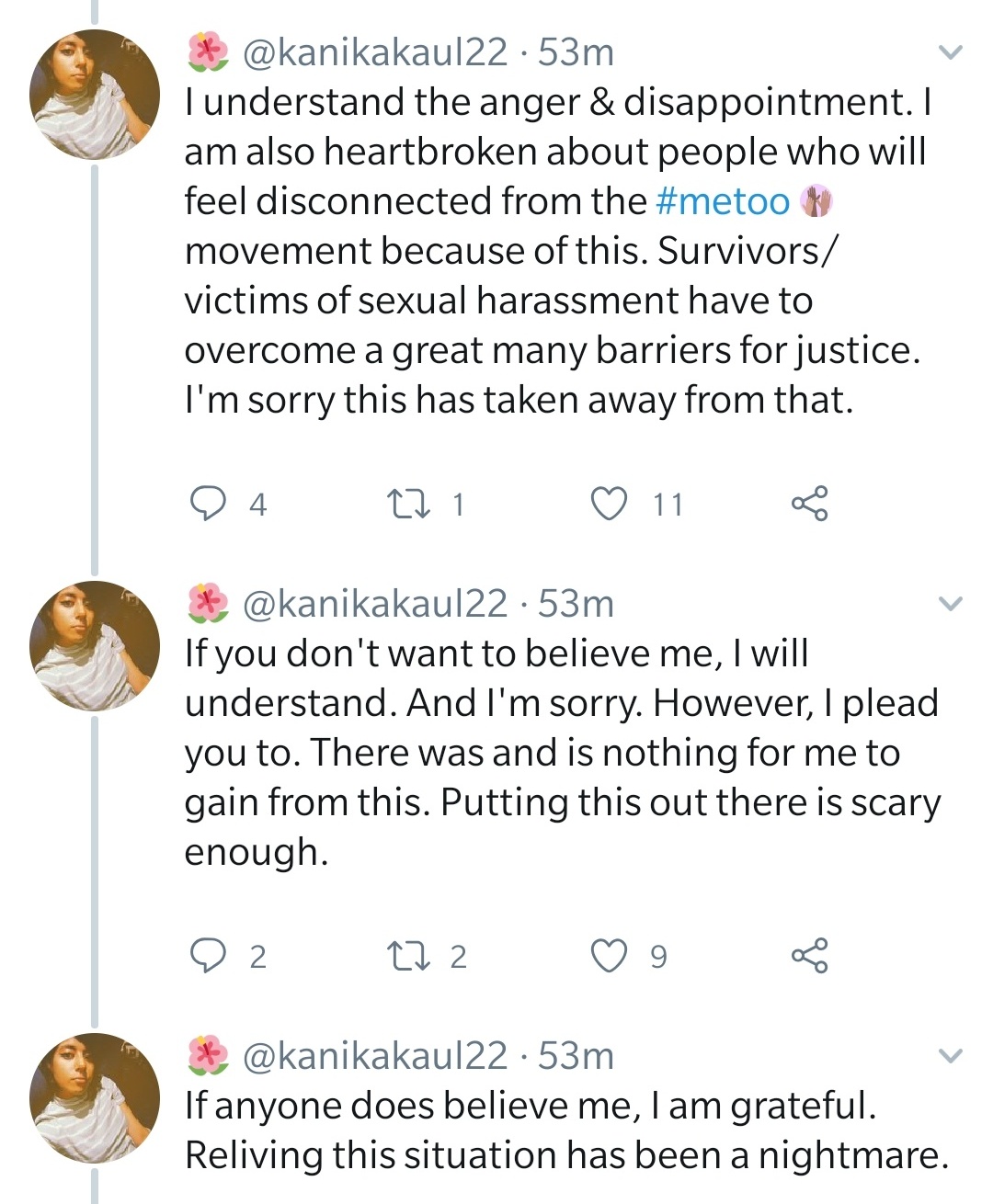 In the same Twitter thread, Utsav talks about how terrible the last couple of years were for him. With losing his job, friends, industry support and family; he had never felt so left alone in his entire life. He talked about the 'irreversible damage' that the incident had done to his life and career.
The new developments in the case currently prove that Utsav Chakraborty is nothing like the creepy sexual predator poised by the ladies. Instead, he is a victim of false #MeToo accusations by Kanika Paul. It also establishes the fact not only women, but men can also be misframed in the brutal world of social media.
Read the controversial tweets here:
"Why would so many women lie about one person?"

In the next few tweets, I will tackle all the malicious insinuations and abject falsehoods put forth on me either by @AGirlOfHerWords or the media frenzy that followed. Stay tuned.

— Utsav Chakraborty (@Wootsaw) November 21, 2019
Also, read through what the tweeples had to say upon learning about Utsav's innocence and malicious acts of Mahima Kukreja and Kanika Paul.
The #MeToo movement was about making work places safer for women. Not for women to levy, as this thread and the evidence attached suggests, patently false allegations. https://t.co/zLfDrZt8I1

— Rohini Singh (@rohini_sgh) November 21, 2019
Looking at some of the opportunistic tweets,waiting for a debacle to bring #MeToo down & it disgusts me.I would like to thank the men who have supported & empathised with the survivors. You are our allies.This is not a gender war,this is about creating a safe working environment

— Rudrani Chattoraj (@rudrani_rudz) November 22, 2019
Deeply disturbing thread on the total fraud & fabricated lies that hijacked #MeToo. These filthy scumbags basically tried to profit of the trauma of genuine victims & in fact exhibited every trait of what we call a "witch-hunt" a la Salem & 16th century germany. https://t.co/BWPQHLQwbQ

— Abhijit Iyer-Mitra (@Iyervval) November 21, 2019
We talk about equality yet we give a license by the name of a victim card exclusively to a woman who can anyday use it as veto and we will not point fingers at her.
Very sad. This powerful campaign has been brought to suspicion after listening to @Wootsaw #MeToo https://t.co/ShGC7Jy1xj

— Sakshi Joshi (@sakshijoshii) November 22, 2019
"In India, the #MeToo activity is following a different path. Anonymous tweets are enough for men to lose their jobs and livelihood."

How do we chart a better path so #metooindia doesn't fall prey to different kind of bullies?
https://t.co/vtY6affmGf

— Prajakta Kuwalekar (@prajectory) November 22, 2019
Men should also start a #MeToo Movement against women who're misusing #MeToo for fame at the cost of the real victim's (Male) defamation
Disgraceful!

— सोनल (@HerLavishHustle) November 22, 2019